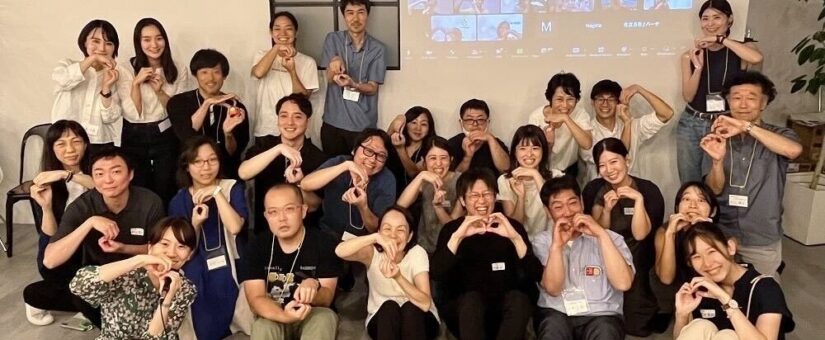 Harch held "Stakeholder Meeting for Good 2023"
On 2023年9月26日
B Corp, circular society, dialogue, Impact Company, positive impact, social impact, Stakeholder, Stakeholder Meeting for Good, sustainability, well being
On September 15, we held an event "Stakeholder Meeting for Good 2023." This event is held every year with the purpose of inviting our stakeholders, who are indispensable to our business operations, to express our gratitude for their continued support and to engage in dialogue with them. Until last year, the event was held online due to the Coronavirus pandemic, but this year, the third event, was held for the first time as a hybrid of a venue (our Tokyo office) and online, and was attended by more than 60 people.
In April this year, we acquired the international certification "B Corporation™ (hereafter, B Corp™)", which is given to companies with a high level of public interest*. We operate our web media daily with the aim of creating a positive impact on individuals and society through the dissemination of information, and the acquisition of the B Corp™ certification is a major step forward for us.
On the other hand, we face a variety of challenges in all aspects of the environment, society, and economy, including the visualization of the environmental and social impact of our business, how to manage our business and organization to achieve the well-being of our employees, partners, and stakeholders, and the integration of sustainability values and economic values. Therefore, in this year's conference, under the theme "What is a true impact company?" we planned this session as a time to think about what kind of company can truly create benefits and value.
*Reference page: "Harch became a B Corporation™"
At the beginning of the day, Kato, the representative of the company, reported on the company's business in the last fiscal year and introduced examples of initiatives taken by the company's staff. In the guest talk, Sakai, representative of Fermentstation Corporation, spoke about balancing business and sustainability. Fermentstation is a company that develops raw materials for cosmetics and bio-materials, as well as products for cosmetics, daily necessities, and miscellaneous goods, with the aim of building a society that recycles and recirculates unused resources through its unique fermentation technology. The company, which has been pursuing its goal of "Fermenting a renewable society," acquired B Corp™ status a year earlier than our company, and we were very inspired by their pursuit of even greater impact.
Afterwards, the participants were divided into four themes and engaged in dialogue with each other. Participants shared their awareness of many issues and ideas, and a lively exchange of opinions took place.
Participants comments include "It was a very meaningful meeting where I was able to interact with many more people than I had imagined. I was sometimes confused about what kind of policy I should follow in writing articles, as I usually work without being able to see their faces, but I could understand the thoughts of the management by listening to their stories," "I would like to make efforts to create articles that can provide awareness to many people. I will try my best to create articles that many people can sympathize with and notice," and "I received many hints on how to balance impact and business continuity, which we are also struggling with."
We also received comments from within the company, such as "I was able to feel anew how many people I work with, something I take for granted," and "It was just fun to meet so many different people at the venue."
We will continue to work with you, our valued stakeholders, in our business to create a better future and become a true impact company. Thank you very much for your participation!
[Reference] Reports on Past Stakeholder Meetings
[Related Site] Fermentstation Co., Ltd