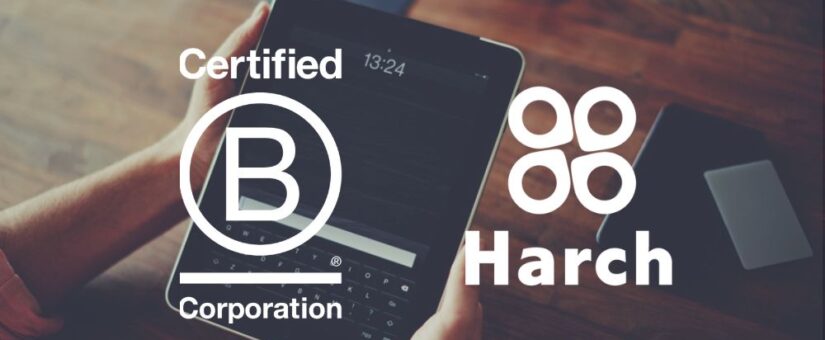 Harch became a B Corporation™
On 2023年5月10日
B Corp, B Corporation
An overall score is 101.3. It was highly rated for its commitment to community and employees.
Harch Inc. (Chuo-ku, Tokyo; CEO: Yu Kato), a company with the mission of "Publishing a better future" and engaged in web media management and sustainability and circular economy support business for corporations and municipalities, received the B Corporation™ Certification, an international certification given to companies with a high public interest, in April 2023.
Road to B Corp™ Certification
Since its founding in December 2015, Harch Inc. has developed and operated nine web media in several areas, including sustainable business, circular economy, English education, finance, sustainable lifestyle, and sustainable tourism, based on its expertise in sustainability, global network, and web media development capabilities. We are currently developing and managing nine web media in multiple domains, including sustainable business, circular economy, English education, finance, sustainable lifestyle, and sustainable tourism.
In operating the media, we have focused on the idea of "constructive journalism" and have aimed to create a positive impact on individuals and society through the dissemination of information, focusing not only on issues facing society, but also on solutions.
Since 2020, we have operated a sustainability and circular economy support program for corporations and local governments to help them transform their excellent ideas for the betterment of society into reality. Harch Europe is playing a role in connecting Europe and Japan in sustainability by planning events in collaboration with European companies, conducting research and reporting on local initiatives, arranging site visits, and disseminating information through the media.
We have been working on our own sustainability promotion in conjunction with these businesses, and in the process, we have focused on the potential of B Corp™ Certification as a governance management tool and a communication tool with our stakeholders to realize new sustainability management. In 2019, the company started activities to acquire the certification. We have achieved the certification with the cooperation of various internal and external stakeholders.
What is B Corp™ Certification?
B Corp™ Certification is an international private certification program issued to companies that conduct business for social or public benefit. B Lab™, a non-profit organization based in Pennsylvania, USA, has been operating the program since 2006, and certification is based on its own index, the BIA score. As of May 8, 2023, there are more than 6,400 certified companies worldwide, including 23 companies in Japan.
Company features that led to the certification
Harch Inc. earned an overall score of 101.3 based on the B Impact assessment (acquired with a score of 80 or higher). We would like to introduce some of our initiatives that led to the certification from the three perspectives of people, planet, and prosperity, which are the priority items for sustainability.
People
Co-creation with local communities
Circular Yokohama, a media platform for promoting regional circular economy in Yokohama City, Kanagawa Prefecture, plans and operates events, workshops, learning programs, exhibitions, and various projects with the theme of circulation through co-creation with various stakeholders. They include the government, local businesses, local educational institutions, living labs, NPOs, and citizens. We are working with the local community to transition to a circular city by planning and operating workshops, learning programs, exhibitions, and various projects.

Co-creation with Kizuki Business College
IDEAS FOR GOOD, the world's leading magazine of ideas for improving society, is collaborating with Kizuki Business College, a business school for people with depression and developmental disabilities, to establish a system in which, in exchange for students writing articles, the editorial staff supports them in improving their writing and translation skills from a professional perspective to enhance their careers. In exchange for the students writing articles, the editorial staff provides them with professional support to improve their writing and translation skills.
Contribution to school education
As part of our career education program, we provide on-site classes at schools on themes such as sustainability and the circular economy, help coordinate school excursions, and conduct joint projects with universities. To date, we have provided learning support to students at more than 10 educational institutions, including elementary schools, junior high schools, high schools, and universities in Japan and overseas.

GIFT peer bonus program for employees to make the most of their individuality
We operate a peer bonus system called "GIFT" in which employees send bonuses to each other along with comments of appreciation. The name "GIFT" is derived from the idea that employees can discover their own "gift" through the comments they give each other. The points earned in GIFT are linked to the company's operating profit.
Planet
Zero carbon
Since fiscal 2019, we have been carbon neutral (Scope 1 and 2), and from fiscal 2020, we will reduce greenhouse gas emissions and carbon offsets to include Scope 3, including CO2 emissions from server electricity use for web media operations and travel for news gathering activities. We are operating our business in a carbon-neutral manner. In addition, since April 2020, we have been working fully remotely and electricity use has been moved from the office to employees' homes, and we are now subsidizing employees and partners who have installed 100% renewable electricity at their homes.
In addition, IDEAS FOR GOOD has been holding events and seminars on the theme of "Sustainable Web Design" to help the industry as a whole decarbonize. They have also collaborated with Members Co. on a joint project called "Climate Creative," which aims to combat the climate crisis with the power of creativity.
Zero-waste
In addition to information dissemination, business support, and community development related to the circular economy, the company also aims to achieve zero-waste in its own business operations, including a zero-waste challenge to achieve "zero combustible waste," in-house workshops and composting roundtable discussions to realize zero-waste. Currently, since most employees work remotely, the company subsidizes the cost of composting organic waste from employees' homes.

Prosperity
UU Fund
Since FY2020, we have been operating the UU Fund, an initiative in which 0.1 yen per UU (unique user) of Harch-operated web media is donated to NPOs. We started this initiative with the hope of creating a system where the more readers we have, the better the environment and society will become. Through this system, readers can contribute to society simply by reading articles. In fiscal 2021, a total of 2,236,674 yen was donated to 38 organizations.
Comments from Yu Kato, CEO of Harch Inc.
"We are very pleased to be certified as a B Corp company and to be a member of the B Corp community. This B Corp certification would not have been possible without our readers, partners, and business partners who always support our business, and we would like to take this opportunity to express our sincere gratitude to all of you.
Through the B Corp certification process, we have identified many issues that we need to address as a company, such as governance, the environment, and our commitment to our customers. It was also a very good opportunity for us to reconsider our company's significance and the state of our organization. Taking this certification as a first step, all of us will continue our efforts to become a company that can truly make a positive change in the future of society."
Challenges for the future
While the acquisition of B Corp™ certification is a major step forward for the company, on the other hand, the current situation involves various challenges in all aspects of the environment, society, and economy. These challenges include visualizing the environmental and social impact generated by business activities, achieving the well-being of employees, partners, and stakeholders through business and organizational management, and integrating sustainability value with economic value. Moving forward, we will continue to explore with everyone what makes a truly good company, while working on our business activities as a B Corp.
Company profile
Company name: Harch Inc.
CEO: Yu Kato, Managing Director
Address: WORK EDITION NIHONBASHI 602
Tomizawa-cho 10-13 Nihonbashi Chuo-ku,
Tokyo 103-0006
Establishment: December 2015
Business description: Digital media publishing, Sustainability / Circular Economy consulting
URL:https://harch.jp/en/home
Media managed by Harch Inc.