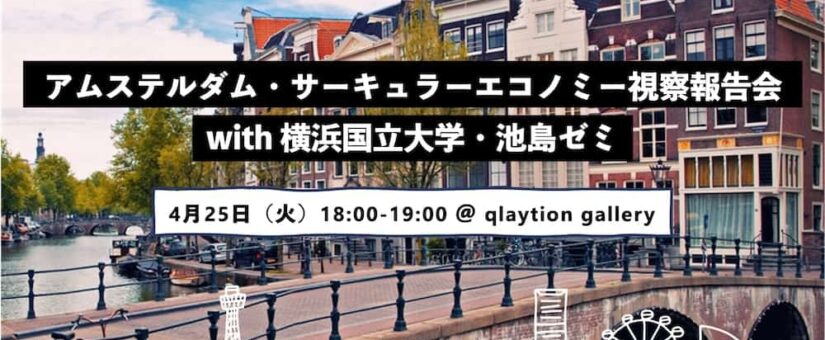 Circular Yokohama held "Amsterdam circular economy visit report meeting with Yokohama National University"
On 2023年5月19日
Amsterdam, Circular Economy, Circular Yokohama, Europe, Ikejima Seminar, sustainability, sustainable, the Netherlands, Yokohama, Yokohama National University
Circular Yokohama, Harch's online platform that aims to promote the circular economy in Yokohama, held the event "Amsterdam circular economy visit report meeting with Yokohama National University – Ikejima Seminar" on April 25 to discuss what we can learn from the latest examples from around the world and how we can apply them to Yokohama.
Amsterdam, the capital of the Netherlands, is known as one of the leading cities in Europe's circular economy, with a goal of transitioning to a 100% circular economy by 2050. This time, Circular Yokohama invited as a guest speaker Yoshifumi Ikejima, Associate Professor at the International Graduate School of Social Sciences, Yokohama National University, who actually visited Amsterdam in March 2023 and observed local efforts in the circular economy. The students of the Ikejima Seminar who were on this trip also participated as guests.
On the day of the event, in addition to comments on their visit to the city's circular economy centers, authentic information based on the content of discussions with local circular economy researchers were presented. We wanted to learn from the discussions and practices in Amsterdam to promote the circular economy in Yokohama. Based on the Amsterdam case study, we had an opportunity to discuss and think together about the future of circular city planning in Yokohama.
Circular Yokohama will continue to provide information on the circular economy.
[Reference] "Report meeting on the visit to Amsterdam circular economy with Yokohama National University" will be held on 4/25 | Circular Yokohama (in Japanese)
[Related Site] Circular Yokohama