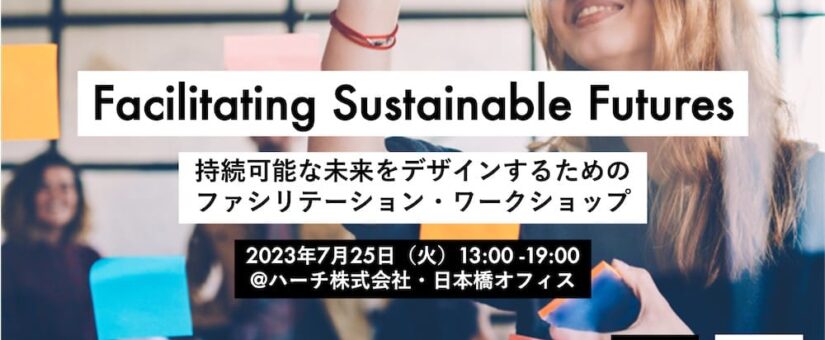 IDEAS FOR GOOD held event "Facilitation Workshop for Designing a Sustainable Future"
On 2023年7月26日
Business Design Lab, Circular Economy, ESG, facilitation, facilitator, IDEAS FOR GOOD, Miro, SDGs, sustainability, sustainable future, workshop
IDEAS FOR GOOD, Harch's web media platform which gathers ideas for improving society, held a one-day workshop program "Facilitation Workshop for Designing a Sustainable Future" on July 25.
Various environmental and social issues such as climate change, resource constraints, inequality, and war are intertwined in complex ways, and the advancement of AI and other technologies is accelerating. How can we design a sustainable future in this age of increasing uncertainty?
In recent years, many companies and local governments have been conducting projects and workshops to promote the transformation of their companies and communities under the slogan of various keywords such as SDGs, ESG, decarbonization, circular economy, and SX (sustainability transformation).
However, many of those who are actually involved in the actual projects may be facing barriers due to various factors, such as communication with project members who have diverse values, funding, and unclear impact.
With no one having the right answer, it is never easy to involve the stakeholders necessary for change, co-create a vision together, and promote the project.
What is indispensable in promoting projects to realize such a sustainable future is the skill to facilitate the entire project while effectively designing a vision co-creation process that elicits excitement, a roadmap for the realization of the vision, and a stakeholder participation process. This is a skill that can be applied throughout the entire project.
In response to this, IDEAS FOR GOOD Business Design Lab (Harch Inc.), which has expertise in the field of sustainability and circular economy, and Future Sessions Inc., has extensive experience in facilitating co-creation projects in various companies and municipalities, have jointly developed "Facilitation Workshops for Designing Sustainable Futures."
This one-day workshop program is designed for people involved in sustainability-related projects in corporations, local governments, and communities. It is a program that covers the basic concepts necessary to promote projects, a sustainable design framework that can be used in practice, and specific workshop design and facilitation skills.
By combining the sustainable design framework used overseas with the know-how that Future Sessions Inc. has cultivated through actual project experience, we have developed a unique program tailored to the needs of Japanese companies and local communities. In addition to the materials provided on the day of the workshop, participants were provided with an online workshop sheet (Miro) that can be used in actual workshops. It is now possible to put the information into practice the day after the course.
The program was aimed at anyone interested in building a sustainable future for companies and communities, regardless of industry, sector, or occupation.
[Reference Page] "Facilitation Workshop for Designing a Sustainable Future" will be held on 7/25 | IDEAS FOR GOOD (in Japanese)
[Related Sites] IDEAS FOR GOOD (in Japanese)