Circular Economy Hub will hold online learning program Circular X on "Circular economy from geopolitical perspective"
On 2023年8月29日
Chatham House, Circular Economy, Circular Economy Hub, Circular X, environmental issues, Geopolitical, global, Online Event, resource autonomy, United Kingdom
Since April 2021, Circular Economy Hub has been holding its monthly Circular X Series, a study program in which participants can learn about the future image of the circular economy spreading in various industries and fields.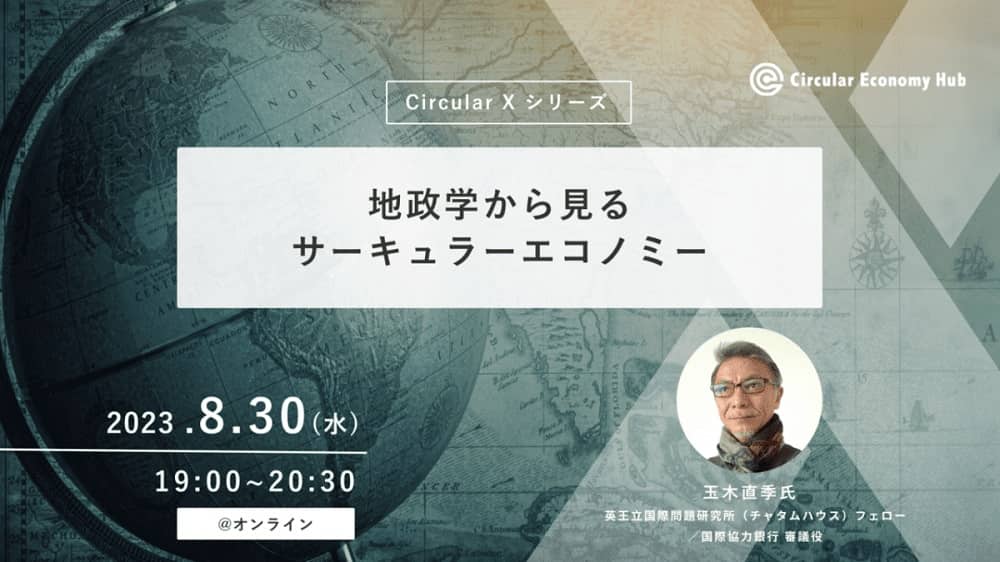 Theme for August 2023 features "circular economy from geopolitical perspective"
The circular economy has been positioned as a new economic model that contributes to solving environmental issues and maximizing added value. However, with the recent spread of the coronavirus, Russia's invasion of Ukraine, and the increasing demand for mineral resources to achieve carbon neutrality, there is an increasing need to view the circular economy from the perspective of resource autonomy and geopolitics.
Taking into account these recently emerging perspectives, looking at the circular economy from a multifaceted perspective will provide an opportunity to consider what kind of circular economy we should and want to realize, especially now that the circular economy is being implemented in various forms even in Japan.
We have invited Dr. Naoki Tamaki of the Royal Institute of International Affairs (Chatham House), who analyzes the circular economy from various perspectives, to discuss the circular economy from the perspective of geopolitics.
Event Time / Date: 7:00 pm- / August 30
[Reference] "Circular Economy from Geopolitical Perspective – Online learning program Circular X" will be held on 8/30 | Circular Economy Hub (in Japanese)
[Related Site] Circular Economy Hub (in Japanese)