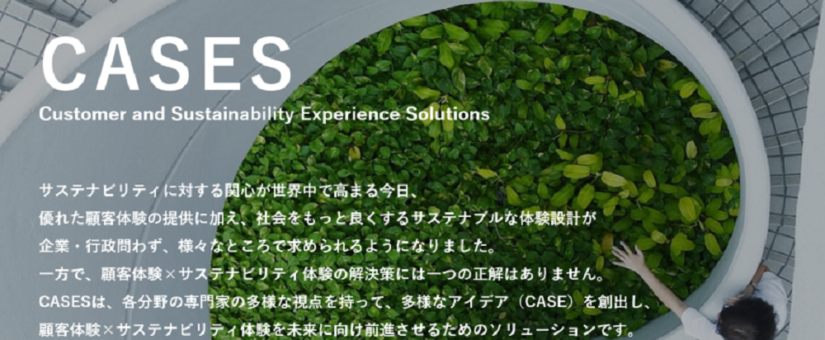 IDEAS FOR GOOD Business Design Lab and alphabox launched CASES, designing Sustainable Customer Experience
On 2022年9月15日
alphabox, CASES, Customer Experience, CX, IDEAS FOR GOOD Business Design Lab, support service, sustainability, Sustainable business, sustainable transformation, SX
Harch and alphabox have begun providing a new method called CASES for supporting the promotion and permeation of sustainability activities for corporations.
Background
Sustainability efforts are widely permeating throughout society and are now becoming indispensable for corporations.
However, for many Japanese corporations, one of the obstacles when carrying out sustainability activities is the c onflict between SX (Sustainable Transformation / Shifting to sustainable business) and CX (Customer Experience / Customer satisfaction).
In other words, what is an ideal experience from the perspective of SX is not necessarily a desired experience for consumers from the perspective of CX. As a result, we can occasionally see hesitation on the part of corporations to adopt sustainable activities.
However, consumer intentions for sustainability efforts do not always translate to action, for example in their actual product purchases or usage habits.
For consumers who do not take concrete action only with rational judgment, (≒sustainability is correct), it is important to create a customer experience that naturally encourages activities for nature and sustainability.
Now, alphabox with its track record in the CX field, and Harch, which specializes in the SX field, have decided to begin providing a customer experience service that leads to new sustainable action, by combining the strengths of Sustainable Transformation and Customer Experience.
Features of Sustainability X Customer Experience CASES
SX × CX = SCX(Sustainable Customer Transformation)
Analyzing current customer experiences from the perspectives of "customer satisfaction" and "sustainability," we specify issues that occur in each experience, as well as the direction of solutions.
We consider measures by encouraging sustainable activities and eliminating the gap between SX and CX.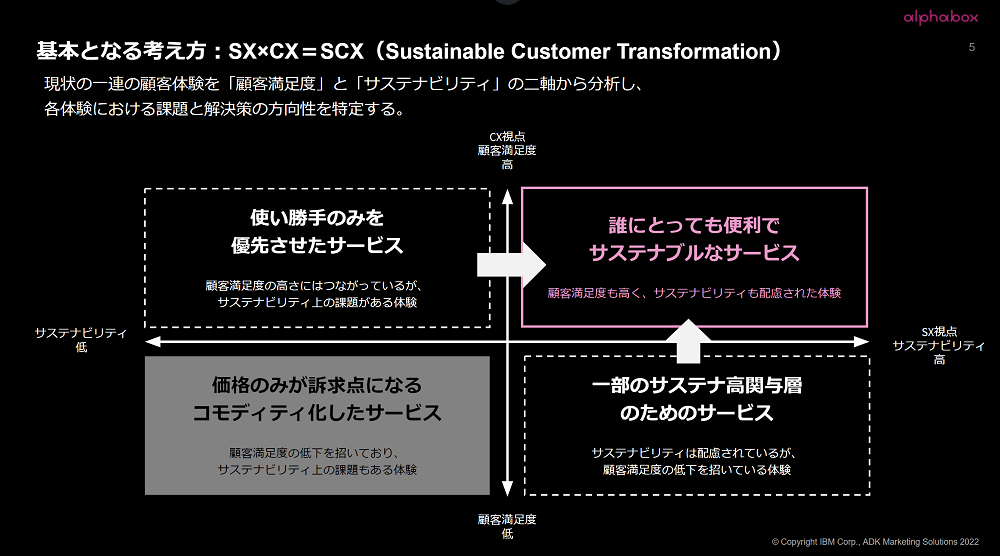 About alphabox
alphabox is a customer experience (CX) consulting unit that combines the know-how of ADK Marketing Solutions and IBM iX, IBM's consulting digital agency Based on their mission of realizing CX through DX, they support the marketing advancement of client companies through providing End-to-End services that include strategic consulting, design, solutions, and growth.
Website: alphabox (in Japanese)