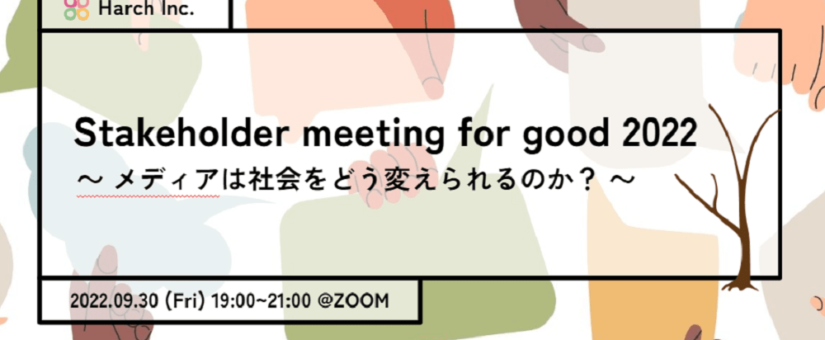 Harch held "Stakeholder Meeting for Good 2022"
On 2022年11月11日
dialogue event, investment, mission, price rises, social good, social uncertainty, Stakeholder, Stakeholder Meeting for Good
Harch held its stakeholder dialogue event "Stakeholder Meeting for Good" on September 30th. We invite all important partners and relevant persons who are indispensable for our business operations to this event. Harch has held these events since last fiscal year in order to both show our appreciation for their consistent support as well as to engage in dialogue with them. Over 60 people participated in this year's meeting.
The last fiscal year was also quite difficult for Harch, among the unprecedented social uncertainty, including the COVID-19 pandemic, the Russian invasion of Ukraine, and price rises and other issues resulting from these events. Taking into account the issues and points for reflection that we have been able to see in this situation, we planned this event to be able to inquire into the state of our organization heading into the next year, while taking in valuable advice and opinions from our partners.
On the day of the Stakeholder Meeting, Representative Kato began by presenting a report on the last fiscal year for Harch, and shared current issues. After that, the meeting was split into 10 breakout rooms on Zoom, and participants discussed the questions posted by each media's editorial department and operations department for the realization of Harch's mission "Publishing a better future." Participants shared their concerns and ideas, and openly exchanged opinions.
Participants shared the following opinions and impressions from the meeting: "It was an intense environment, but I certainly hope you continue to work hard as a databank for social good," "As the need for investment articles decreases, I'd like to hear about what kind of articles we should make in the future, as well as what kind of articles that readers need," and "I hope that those involved with Harch media contribute to society by creating new awareness, which turns into action and habits."
Harch will continue to do business with the aim of creating a better future together with all of our valued stakeholders. We thank everyone who participated in this year's meeting.