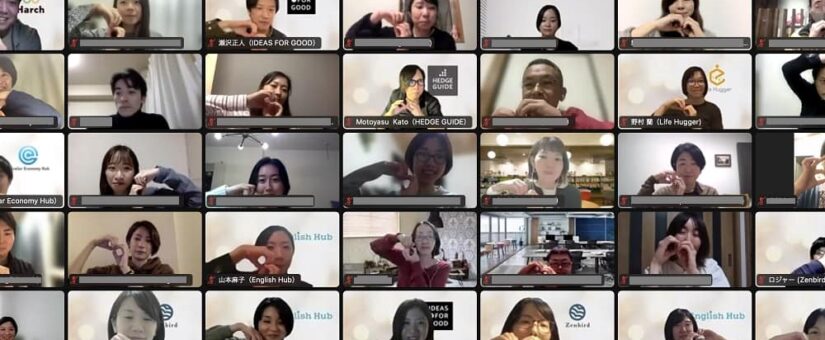 Harch holds annual partner gathering
On 2022年6月13日
Circular Economy Hub, Circular Yokohama, English Hub, event report, HEDGE GUIDE, IDEAS FOR GOOD, IDEAS FOR GOOD Business Design Lab, Life Hugger, Livhub, My Craft BEER, Online Event, outsourcing, partner gathering, Zenbird
Hello, this is Sugiyama from Harch. Inc. Our primary business is publishing valuable information via the internet. Our outsourcing staff play an indispensable role in consistently distributing more than 500 articles per month on each web media we own. We have more than 150 outsourcing staff and call them "partners." Their work varies from writing, editing articles, designing, and coding websites to general project planning and management.
To send our gratitude for their daily cooperation and build better relationships with them, we held an online meeting on April 15th. Including partners and Harch's internal staff, more than 60 people gathered and had casual conversations, regardless of the teams or departments they belong to.
Through the gathering, we heard from the partners that;
"The event was beneficial because I could talk to people from the top management to the media operators. I saw that the Harch's members respect each partner, and I think that is the Harch's culture and value as a company. I am pleased to be a part of it."
"I felt the thoughtfulness of everyone engaged in the Harch's community. It was also amazing that I could have conversations with various people in several breakout sessions."
Simultaneously, Harch's members commented that;
"Seeing more than 60 participants, I was deeply moved and realized that so many people are engaged in our creations. I think it is vital to gather together and communicate with each other."
"I was able to learn the great personalities of all the people involved in our business."
Our regular communication is based on online chat, and we do not see each other in person daily. We noticed that face-to-face interaction is an excellent opportunity for both the partners and Harch's internal staff. We thank everyone who participated very much!