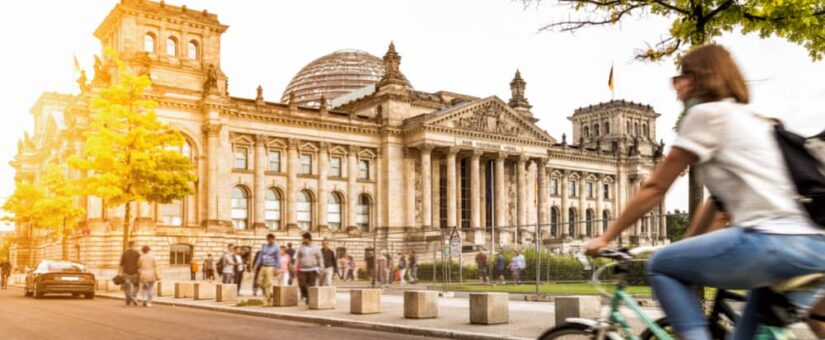 "Circular Economy in Europe: Policy and Case Study Report 2022" now on sale
On 2022年8月29日
Case Study Report, Circular Economy, EU, Europe, France, Germany, Harch Europe, Holland, United Kingdom, well being
Harch has begun selling its "Circular Economy in Europe: Policy and Case Study Report 2022" from August 17th, 2022.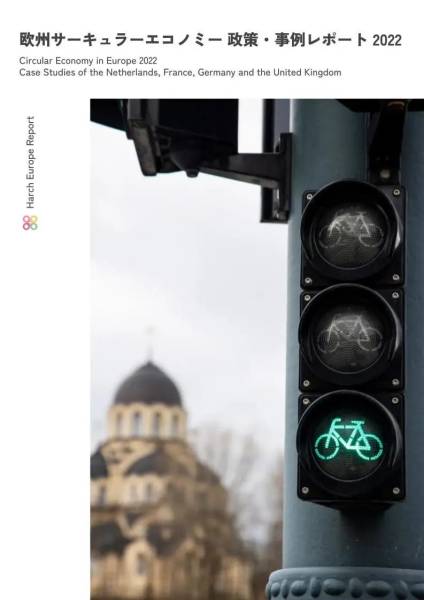 Report background and objectives
The world has seen many incidents in the past few years, from the Novel Coronavirus that spread through the world in the blink of an eye from December 2019, to the Russian invasion of Ukraine in February 2022, as well as unusual weather brought about in each region from climate change. These incidents have been a danger to the economy and resources in many countries and have brought about wealth gaps.
The world population will only continue to increase in the future. How can we live a rich life with the limited resources we already have? The answer lies in the "Circular Economy," a new economic system that has been getting a lot of attention. The circular economy aims to restore nature, improve people's well-being, achieve economic growth, and decouple resource usage from environmental burden. It does this by designing materials, products, services and systems that do not cause waste or pollution and continuing to circulate items while preserving the value of raw materials and products as much as possible. Even in Japan, the circular economy has been gaining attention in environmental and industrial policy, as well as corporate activity since the publication of "Circular Economy Vision 2020" in May 2020 and the carbon neutral declaration that same year.
European countries have been gaining attention from the world due to advanced circular economy policies, research, and practices. Many countries, including Holland, have the circular economy positioned at the center of economic and environmental policies. Both governments and private organizations have developed many unique efforts. In addition, it can be said the circular economy in Europe has entered a new phase in 2022, due to the economic stagnation caused by the Novel Coronavirus as well as the rising prices of energy due to resource importation restrictions on Russia.
The "Circular Economy in Europe: Policy and Case Study Report 2022" focuses on the EU's circular economy policies (regulations), France, Holland, Germany and the United Kingdom's policies, and efforts by organizations and individuals to actually promote the circular economy in those 4 countries. From the time the circular economy began to gain attention in Europe to these turbulent times, we followed the discussions and conditions of the circular economy locally in Europe. The circular economy experiment that has been proceeding in Europe should be able to give useful hints for Japan regarding future policies, direction, and corporate and citizen activities.
The writing of this report has been handled by Harch staff living in Europe, in order to, as much as possible, convey authentic local information on the situation there. The unique perspective of people living in Europe makes for a thoroughly enjoyable read.
Report Structure
Preface
Writer Profiles / About Harch, Inc. (Harch Europe)
Chapter 1. EU's Circular Economy Policies
Chapter 2. Holland's Circular Economy
Chapter 3. French's Circular Economy
Chapter 4. Germany's Circular Economy
Chapter 5. United Kingdom's Circular Economy
Conclusion
Report Features
Wide range of circular economy case studies, from policies to corporate efforts
The information is useful for a wide range of people, including those working for municipalities, those involved in urban development, those working in manufacturing, and those considering making inroads into European markets.
Background of circular economy being promoted in each country and local people's reactions
The report does not just introduce excellent case studies from each area. It also describes the background and issues of the circular economy being seen as important in policies and business. In addition, it collects reactions from people who have been involved in circular economy policies.
Delivering unique perspectives from Europe residents
The feelings of people who actually live in Europe, as well as remarks from those who have used local services, are collected in 8 columns.
Report Summary
Page count: 105 pages
Language: Japanese
Writers: Harch Europe staff (IDEAS FOR GOOD / Circular Economy Hub Editorial Staff)
Price: 44,000 yen (Tax included)
Organizations introduced: 36
Local columns: 8
Where to purchase: https://bdl.ideasforgood.jp/product/europe-ce-report-2022/(in Japanese)
Case studies covered by the report (Partial list)
Private circular economy research institutions
NGOs and NPOs that promote the circular economy with local communities
Major automobile corporations that have stepped up their recycling of electric vehicle batteries
Major railway companies that are aiming to implement the goals of the Green Deal
Major banks that are creating a common understanding regarding circular economy finance
Major retail companies that are expanding their packaging-free efforts
Start-up companies that run urban farms using the latest technology
Start-up companies aiming to spread reusable containers
Zero waste restaurants
Corporations planning completely circular events
Report release celebration event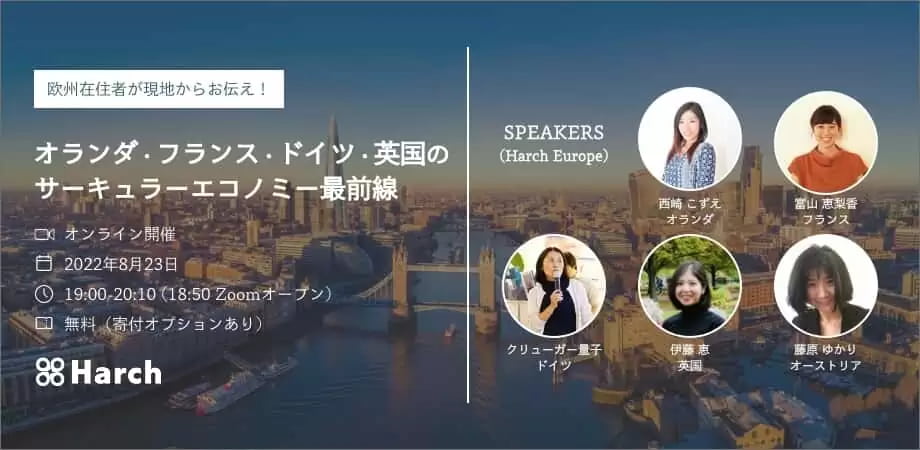 To celebrate the release of "Circular Economy in Europe: Policy and Case Study Report 2022," Harch staff who handled the actual report writing held an event. They presented highlights in the report regarding EU policies, as well as the efforts of Holland, France, Germany and the United Kingdom.
Future developments
Harch Europe plans to continue research, reporting and events in the same vein as this report. In addition, we plan to have local observation tours and coordination, plan and manage internship programs for working adults, and provide study programs aimed at Japanese educational institutions.
Harch Europe welcomes consultations from anyone who is interested in sustainable efforts promoted in Europe.
[Reference site] Press Release "Circular Economy in Europe: Policy and Case Study Report 2022" now on sale. Online event also held for sharing the latest local information!"(in Japanese)