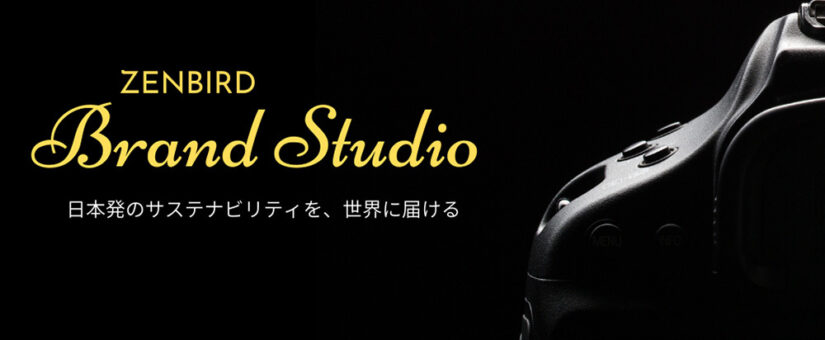 Zenbird – Zenbird Brand Studio launched in September 2021, a service that supports sustainable branding for corporations that aim to expand overseas
On 2021年10月5日
sustainability, Zenbird
Harch handles website projects with the concept of "Publishing a better future." We have established a sustainable branding support service for corporations on our English media site Zenbird, and from September 2021, we have begun offering English translation services as well as English article creation services.
Background of service launch
There are many Japanese corporations and brands that do excellent work for the environment and society but are not very well known overseas. Due to this, there are issues with insufficient knowledge about effective approaches and communication skills for corporations and ordinary citizens in the overseas market, which has language barriers and is very sensitive to sustainability issues. Information about sustainability is becoming especially crucial for Western corporations, and Japanese companies must convey their excellent environmental and societal work when appealing to overseas clients.
Harch launched Zenbird in April 2019. It is an English media site that posts about sustainable ideas and efforts from Japan for a worldwide audience. Zenbird has since posted a total of over 700 articles that introduce excellent sustainability case studies in Japan for English speakers in Japan and overseas. The website has 1 writer living overseas, as well as 7 native English speakers among its staff, and it combines high-level language skills with specialized knowledge about the latest trends in sustainability.
For global companies, it's becoming increasingly necessary for them to communicate their efforts regarding sustainability in English. Due to this, Harch has been taking advantage of its experience and has launched Zenbird Brand Studio, a service that supports Japanese companies in effectively sharing their sustainability efforts to overseas markets.
Summary of provided services
At Zenbird Brand Studio, when Japanese corporations and brands post information for English native speakers who are highly interested in sustainability, we support their essential global communication in various ways. We have begun offering the following services from September, 2021.
Translation service
Zenbird Brand Studio translates text published on official websites, social media, pamphlets and in-store notices from Japanese to English. We also are able to translate with knowledge of SEO for overseas markets.
English article creation service
We create English articles based on interviews that communicate your company or brand's efforts and thoughts and publish them on Zenbird. We can also take photographs for you. Over 70% of Zenbird's readership consists of people living in Europe, America and Asia, and over 60% of them are 35 years old or younger. With our services, you can reach readers who are highly interested in sustainable efforts.
Future service plans
As we aim to provide general global brand communication services for Japanese companies, we are planning to offer the following services in the future.
Video editing
Creation of videos that effectively generate interest for English speakers in your company's sustainable efforts and thoughts.
Sound editing
Creation of sound data, such as podcasts and other recordings, for effectively generating interest in your company's sustainable efforts and thoughts.
Social media management support
Creation of social media posts, images, and more to generate interest in your company's sustainable efforts effectively.
Please do not hesitate to consult with Zenbird Brand Studio if you are a corporation thinking about posting information for English speakers both overseas and in Japan.
Team member introductions and created article examples
Zenbird Editor-in-Chief: Roger
After working for public institutions and private corporations in Singapore, he changed jobs in order to contribute to society through marketing. He has 6 years of experience in total working for e-commerce companies and media companies. Roger is involved in SEO optimization, keyword research and data analysis. He manages a Youtube channel that introduces Japanese products and has experience gaining 5,000 followers.
【Example articles】
・Article that covers a project which uses Okinawan taco rice to confront the problem of child poverty
・Article that covers the zero waste center in the town of Kamikatsu in Shikoku
Editor: Tomoyo Matsuda
She joined Harch after working in an education company. For Harch's IDEAS FOR GOOD Business Design Lab, Tomoyo is involved in support of projects for several companies solving societal problems and contents creation. She has experience living in America for 1 year.
【Example article】
・Article covering the circular economy realization efforts of Ishizaka, an industrial waste disposal company
Editor: Aya Mishina
Born in Kyoto Prefecture. She worked as a teacher in America after studying education in a university there. After returning to Japan, she worked as an exchange student advisor as a staff member at a university. She is a mother of 1 child and is active in media to support building a sustainable society.
【Example article】
・Article covering TELL, an NPO that saves lives through phone consultations and counseling
About Zenbird
Zenbird is a web magazine that posts in English about sustainable ideas from Japan. For overseas readers, it posts about startup companies and NPOs that strive for solutions to societal problems, as well as unique efforts for regional revitalization and sustainable lifestyle knowledge rooted in Japanese culture.
Zen means "something which is good for society." The "Zen" in Japan flaps its wings to the world like a bird and gives people throughout the world a chance to discover the appeal of Japan. The name Zenbird was created with this feeling in mind.