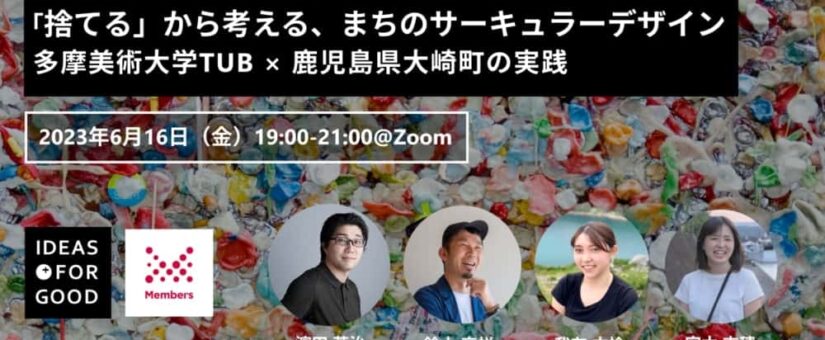 IDEAS FOR GOOD will hold online event Climate Creative Cafe vol.7 "Thinking from 'discard' -Urban circular design-"
On 2023年6月9日
Climate Creative, Climate crisis, discard, IDEAS FOR GOOD, Online Event, resource recycling, social issues, sustainability, sustainable, zero waste
IDEAS FOR GOOD, Harch's web media platform which gathers ideas for improving society, will hold an online event "Thinking from 'discard' -Urban circular design- Tama Art University TUB x Osaki-cho, Kagoshima practice (Climate Creative Cafe vol.7)" with Members Co.
IDEAS FOR GOOD is implementing the "Climate Creative" project, which aims to tackle the climate crisis through creative ideas, communication, and business models, in cooperation with Members Co. Climate Creative Cafe is a series of events that will focus on the innovative approaches of individuals in various industries, organizations, and positions to solve issues related to the climate crisis and link them to actual actions together with participants.
*List of past events (in Japanese)
The event theme is "Urban development from the perspective of 'discard'"
The seventh session theme is "Urban development from the perspective of 'discard.'" Kamikatsu Town in Tokushima Prefecture is famous for its zero-waste town planning, while Tokushima City in Tokushima Prefecture has changed the name of burnable garbage to "garbage that has to be burned even though we have done our best to separate it." Osaki Town in Kagoshima Prefecture, which recorded Japan's highest recycling rate 14 times between 2006 and 2020, has been working to support recycling on a town-wide basis.
In creating a town where resources are recycled, it is important to take a "throw away" perspective. What is necessary for resource circulation includes, for example, opportunities for local residents to learn in order to foster a common language within the town, cooperation with those outside the town to realize recycling that cannot be done within the town alone, and the creation of a mechanism to redesign the premise of "throwing things away." What specific steps should be taken? And what kind of thinking is needed to overcome these challenges?
We are pleased to invite Yoshiharu Hamada, Professor of Product Design, Department of Production Design at Tama Art University, and Takaaki Suzuki, Director of Gassaku Corporation, which operates in Osaki-cho, Kagoshima Prefecture. Tama Art University has launched a co-creation project called "Suteru Design" with several companies, aiming to create designs that support society and industry by considering "Suteru (discard)." Gassaku Corporation serves as the secretariat of the "OSAKINI Project," a project to create a sustainable society in which all resources are recycled in Osaki-cho.
At this event, we will hear about their achievements in approaching the creation of a recycling-oriented town, as well as their creative perspectives on human resource development and how to overcome challenges. We look forward to your participation.
Event Time / Date: 7:00 pm- / June 16
[Reference Page] "Circular Design of Towns from the Perspective of 'Discard' – Practice of Tama Art University TUB x Osaki Town, Kagoshima Prefecture -" will be held on 6/16 | IDEAS FOR GOOD (in Japanese)
[Related Sites] IDEAS FOR GOOD (in Japanese)