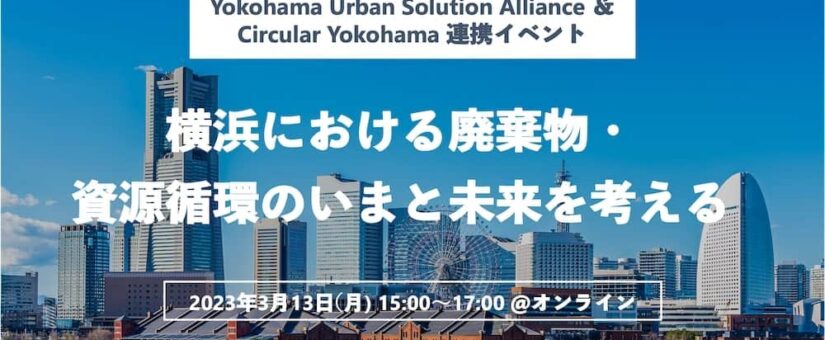 Circular Yokohama held online event "Present and future of waste and resource circulation in Yokohama"
On 2023年4月11日
Circular Economy, Circular Yokohama, problem-solving, recycling, resource circulation, resource recycling, SDGs, sustainability, waste material, Yokohama
Circular Yokohama, Harch's online platform that aims to promote the circular economy in Yokohama, held the event "Present and future of waste and resource circulation in Yokohama" on March 13. The event was held in collaboration with the Waste Subcommittee of the Yokohama Urban Solution Alliance (YUSA).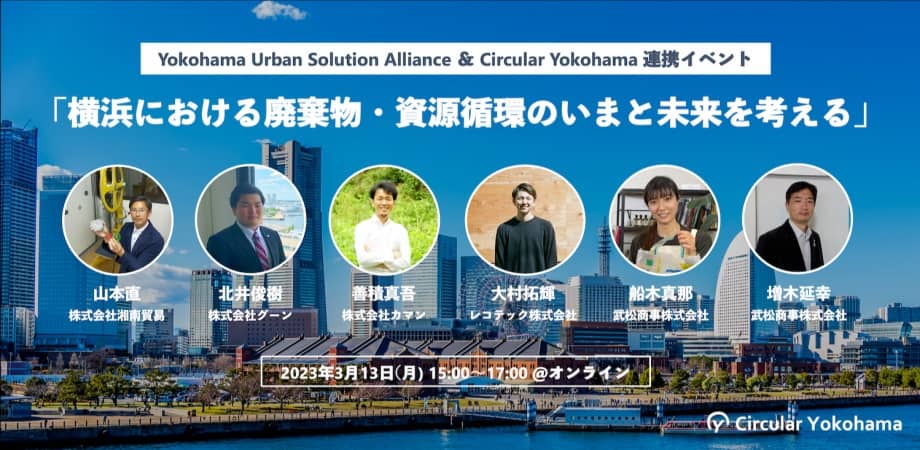 Guests included companies and organizations from YUSA and Circular Yokohama, which aim to solve waste problems in emerging countries and other regions by providing knowledge from the City of Yokohama and solutions from companies in the city. We then had a wide-ranging discussion on the current status of waste and resource recycling in Yokohama and the prospects for technological deployment and collaboration overseas based on waste management and the circular economy.
Session Highlights
The circular economy is an economic system in which products, raw materials, and other resources that have been "discarded" without being utilized in the conventional linear economic system of "Take (mining resources)," "Make (manufacturing)," and "Waste (disposal)" are considered new "resources," and resources are circulated without generating waste. It is an economic system that circulates resources without producing waste. It is attracting attention as a concrete method for building a sustainable society, achieving decarbonization, and achieving the SDGs.
In order to implement the concept of circular economy, which is completely different from conventional economic models, it is necessary to fundamentally rethink our awareness of "throwing things away," such as how to continue using waste in society without treating it as waste and what constitutes "waste" in the first place.
At this event, businesses that collect, process, and recycle waste in Yokohama City, as well as businesses that provide recycling-oriented services that are close to the daily lives of citizens, took the stage to introduce their past and future activities and explore the future of resource circulation through multi-company cooperation.
The event was broadcast live from the "qlaytion gallery," a circular economy promotion center in the "Hoshiten qlay" commercial facility, which opened on February 2, 2023 and is an information station jointly operated by YADOKARI Co. and our company. It is used as a venue for events and demonstrative experiments aimed at building a community-based recycling society centered on the Hoshikawa/Tennocho area.
Official URL: https://www.hoshiten-qlay.com/shop/qlaytion-gallery/ (in Japanese)
From February 2 to March 31, 2023, "YOKOHAMA CIRCULAR DESIGN MUSEUM," a mobile museum where visitors can see, touch, and purchase products under the theme of circular economy, was held at the same location. This event also introduced the current status of local circulation centered on qlaytion gallery and the future circular lifestyle that YOKOHAMA CIRCULAR DESIGN MUSEUM is aiming for.
Official URL: https://circular.yokohama/yokohama-circular-design-museum/ (in Japanese)
[Reference] "YUSA x Circular Yokohama Joint Event 'Considering the Present and Future of Waste and Resource Recycling in Yokohama'" will be held on 3/13 | Circular Yokohama (in Japanese)
[Related Site] Circular Yokohama