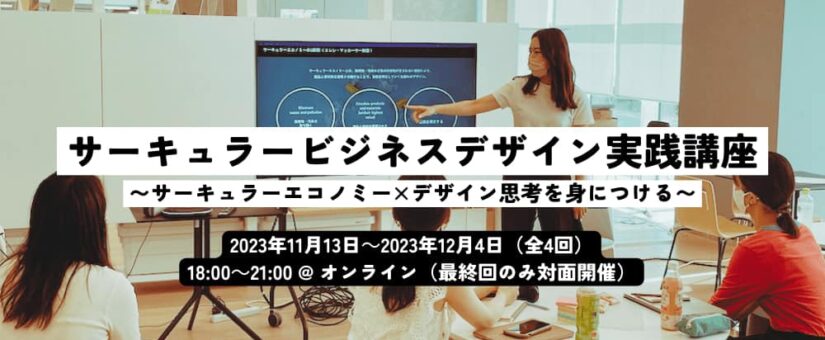 Circular Yokohama to hold "Circular Business Design Course: Embrace circular economy and design thinking"
On 2023年10月31日
business course, circular design, circular design thinking, Circular Economy, Circular Economy Hub, Circular Yokohama, event, IDEAS FOR GOOD Business Design Lab, Kanagawa University, workshop, Yokohama city
Circular Yokohama, Harch's online platform that aims to promote the circular economy in Yokohama, will hold an event "Circular Business Design Course: Embrace circular economy and design thinking" together with Kanagawa University. The course will take place from November 13 to December 4, consisting of four sessions.
Harch is actively involved in managing digital media related to sustainability and the circular economy, providing support to both businesses and local governments. Since 2021, we have been collaborating with Kanagawa University in Yokohama to advance circular design education through Circular Yokohama's initiatives.
From January to March 2022, Circular Yokohama collaborated with Associate Professor Daisuke Doyo's seminar at the School of Business Administration to implement the "Circular Design Project" to create up to a circular design prototype in three months. In September 2022, Harch conducted a one-day workshop, "Circular Design Sprint @KU," to help individuals acquire circular design thinking skills offered by the company.
In 2023, as part of the Circular Service Design Practice to let citizens experience the joy of participating in the circular economy, we have collaborated on various circular economy projects, including the production of a "Circular Gacha (a capsule toy machine)" in collaboration with the Minatomirai Fab Lab located within Kanagawa University.
As part of this joint practice in circular design education, Kanagawa University's Minatomirai Extension Center will host the "Circular Business Design Course: Embrace circular economy and design thinking" from November 13 to December 4. The course will be held online on Mondays from 6:00 pm to 9:00 pm, except for the last session, which will be in person.
This course combines special lectures by guest speakers who are working on building circular business models from the standpoints of designers, startup companies, and large corporations. Practical workshops where participants can actually use their brains and hands will also be offered. The program is designed to enable participants to learn both the theory and practice of circular business design in a short, intensive period of time.
This is an intensive program that combines the expertise of "Circular Economy Hub," Harch's media site  specializing in circular economy, "IDEAS FOR GOOD Business Design Lab," which supports companies in creating circular businesses, and "Circular Yokohama," which practices circular design rooted in the local community.
Course Objectives
This short, four-session course is designed for individuals interested in learning circular design thinking and creating circular products, services, and businesses. It plays a crucial role in the transition to a circular economy, which is gaining increasing attention as a method for decarbonization and sustainability transformation (SX).
The course also introduces a number of cutting-edge circular design frameworks that are useful in practice. In addition to lectures by guest speakers who practice circular economy, the workshop will deepen understanding of the essence of circular economy and circular design from both theoretical and practical perspectives through hands-on workshops.
Event Time / Date: 6:00 pm- / November 13, 20, 27, and December 4
[Reference] "Circular Business Design Course – Learn Circular Economy × Design Thinking" | Circular Yokohama (in Japanese)
[Related Site] Circular Yokohama