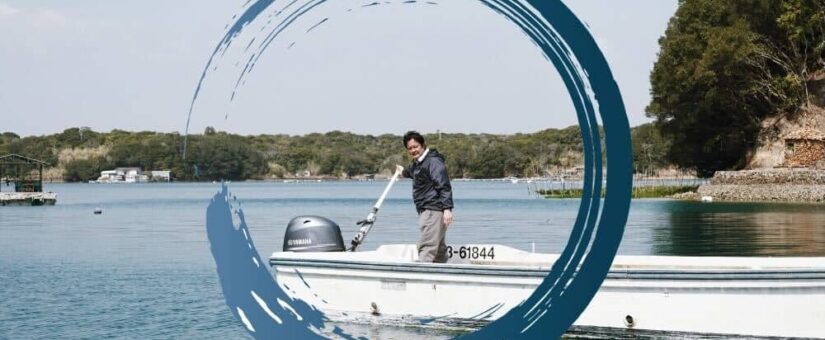 Livhub will hold tour "Circular Tourism: Coexist with Nature – from the Satoumi of Ago Bay, Ise-Shima"
On 2023年10月20日
Ago Bay, Circular Economy, Circular Economy Hub, Circular Tourism, coexistence, fisheries, IDEAS FOR GOOD, Ise-Shima, Livhub, nature, regenerative, regional revitalization, satoumi, satoyama, social good, sustainable, tour
Livhub, a media for sustainable and extraordinary experiences, operated by Harch, will hold a tour called "Circular Tourism: Coexist with Nature – from the Satoumi of Ago Bay, Ise-Shima." This tour, scheduled for October 28 to 29, offers participants the opportunity to experience prosperity within the context of regenerative positive cycles.
*This article was originally published on IDEAS FOR GOOD "[Oct. 28-29, Call for Participants] 'Circular Tourism' from the Satoumi of Ago Bay, Ise-Shima, for Better Circulation and Harmonious Coexistence between People and Nature".
About the tour "Circular Tourism: Coexist with Nature – from the Satoumi of Ago Bay, Ise-Shima"
"I thought it would be most environmentally-friendly if people stopped living there."
This is what a pearl farmer from Ago Bay in Ise-Shima, Mie Prefecture, the birthplace of pearl cultivation, said in a video on the satoumi produced by the UN University. (Source: UN Univertiry / Ago Bay, Mie Prefecture)
"It would be better without humans." You may have once thought that way as well when you became aware of the challenges of climate change and environmental issues. However, there is more to this statement.
"But then where would we live? Human life and industrial activities invariably impose a burden on the environment, with the fisheries industry often having a more pronounced impact than other sectors. If we want to make this work sustainable, we have to take the initiative in addressing environmental issues."
Now that the natural environment continues to scream and its voice is finally reaching the ears of many people, how can we humans reconnect with nature and how can we coexist with it in the future?
In order to consider these hints, the three editorial departments of IDEAS FOR GOOD, Circular Economy Hub, and Livhub, all of which are managed by Harch, have focused their attention on "satoumi."
The term "satoumi" refers to coastal waters where people's lives and nature's activities are closely connected. Like satoyama, it is an area at the midpoint between the realms of people and nature, where people and nature coexist in harmony. In a healthy satoumi, people take care of both the land and the sea, which provides many blessings to humans by properly maintaining the material circulation function and increasing the productivity and diversity of living organisms. People living in satoumi tend to unconsciously feel that people are part of nature because of their daily activities.
In places where such satoumi is on the verge of collapse due to various factors, there is a company that is taking up the challenge of reviving the richness of satoumi once again. Kakuda Pearl Co., which has been in the pearl business for 90 years since its establishment in 1931.
While their headquarters is located in Ise City, Mie Prefecture, they have been working for several years to rebuild the satoumi in Ago Bay, located in Ise-Shima National Park, Mie Prefecture, where this tour will take place. In June 2023, the company opened COVA KAKUDA, an interactive resort hotel that is also part of the satoumi. COVA KAKUDA, an interactive resort hotel that is also part of the satoumi. Through this series of activities, Kakuda Pearl is working to solve environmental, social, and economic problems in the region through tourism and hands-on experience.
During this two-day tour, participants will have the opportunity to immerse themselves in the abundance of Ago Bay's satoumi, an area where Kakuda Pearl is actively engaged. It showcases how people engage in a regenerative positive cycle that starts when they connect with nature. The program is designed to help participants deepen their understanding of the "harmonious coexistence between people and nature" and "a better circurarity."
Tour itinerary and guides
Day 1
On the first day of the trip, the participants will be guided by Jouji Kakuda, President of Kakuda Pearl Corporation, the leader of the Satoumi Restoration Project, into the mountains. They will listen to his talk about the past, present, and future of the Satoumi while looking out over Ago Bay.
Leader: Jouji Kakuda, Kakuda Pearl Co.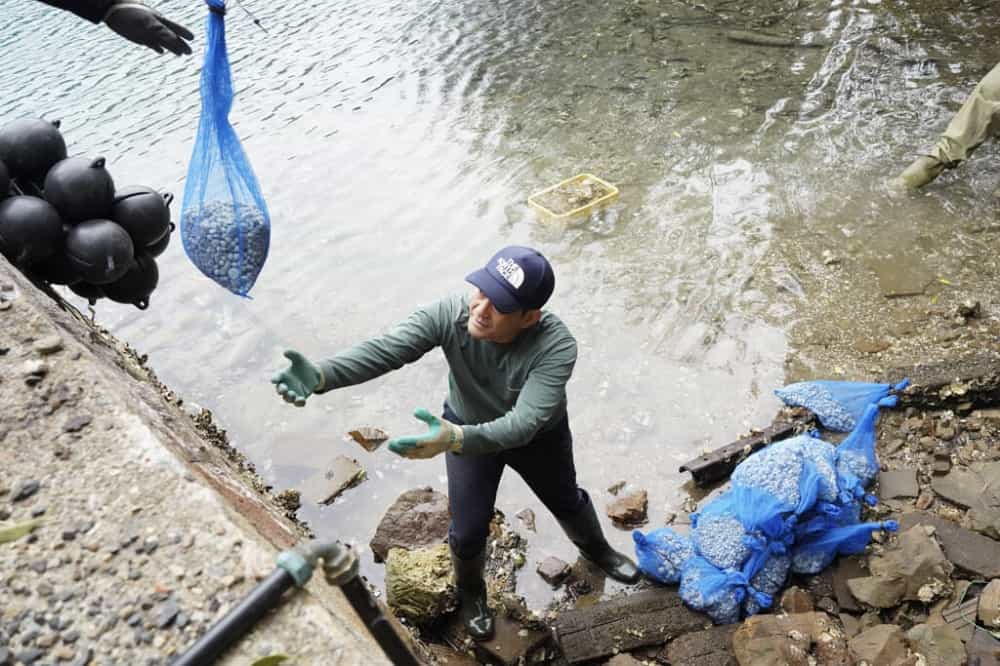 After lunch, Yu Kato, President and CEO of our company and founder of "IDEAS FOR GOOD," a global magazine of social good ideas, will give a lecture to deepen the idea of "harmonious coexistence between people and nature" and "a better circurarity."
Lecture by Yu Kato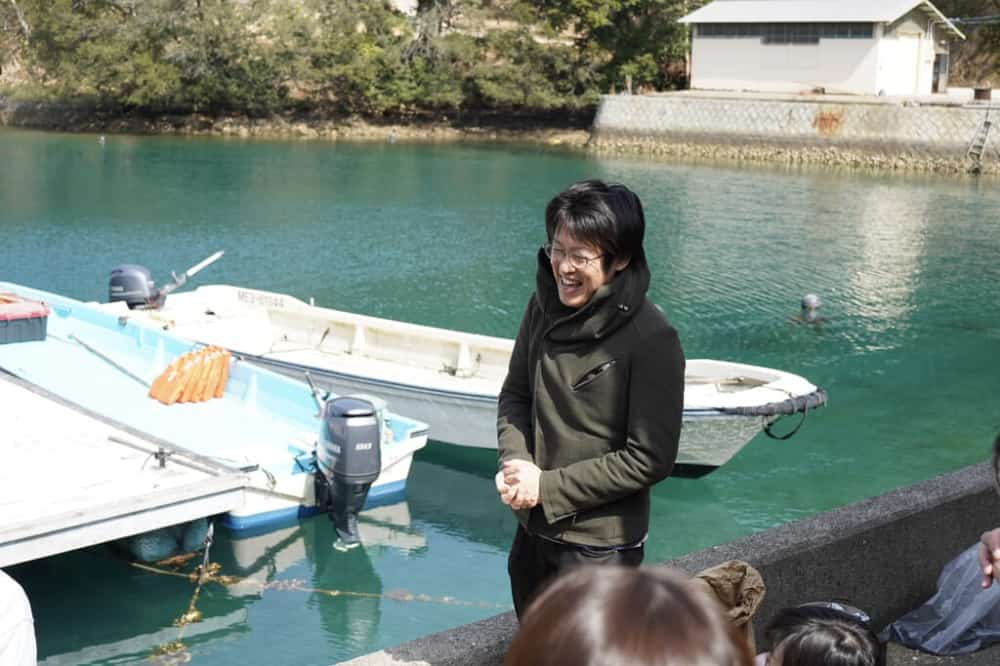 Addition to listening to local people who are active in the satoumi, participants will experience some of the mountain work, such as chopping firewood, thinning trees, and piling stones. The program encourages the circulation of satoumi through the use of all five senses. In the sea, participants will experience seaweed cultivation, water quality improvement using photosynthetic bacteria, and water quality improvement using "care shells" made from oyster shells.
Mountain guardian: Hironori Takeuchi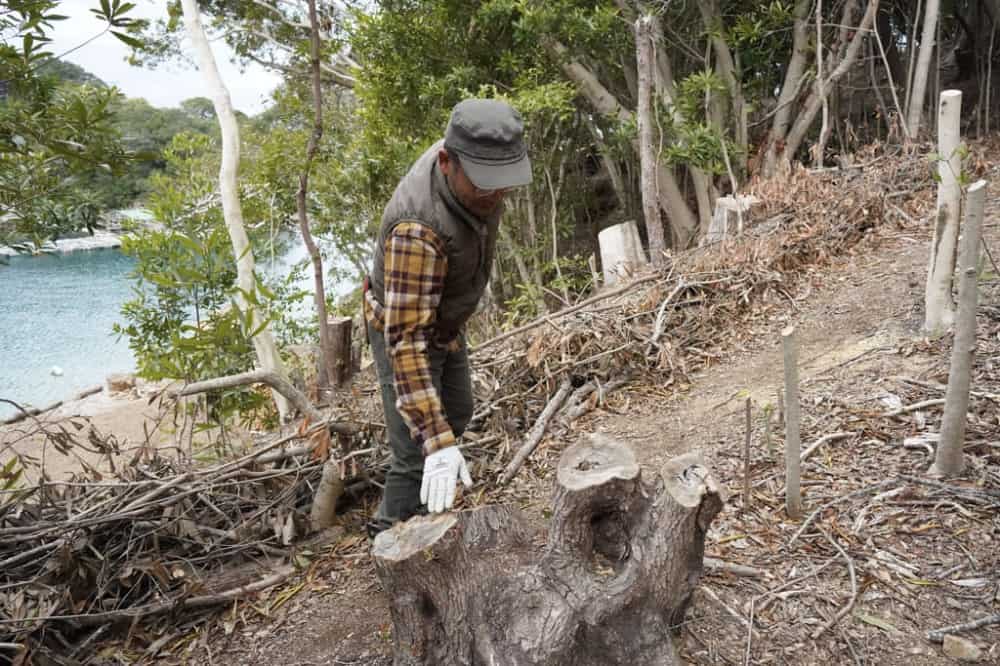 Sea guardian: Kodai Okabe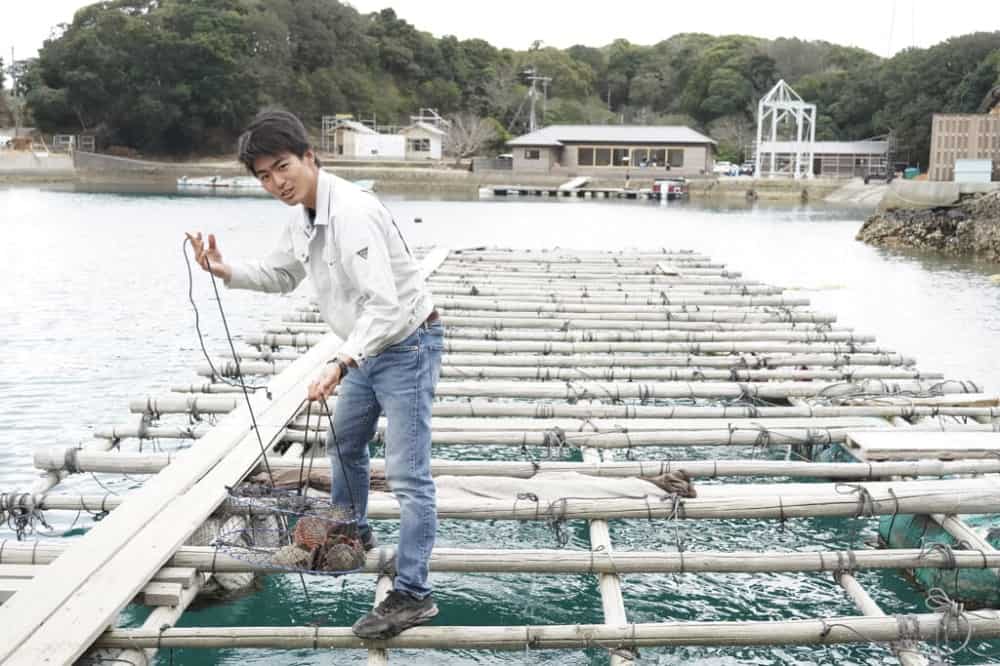 Sea restoration activity: Keiko Yamaguchi, Care Shell Co.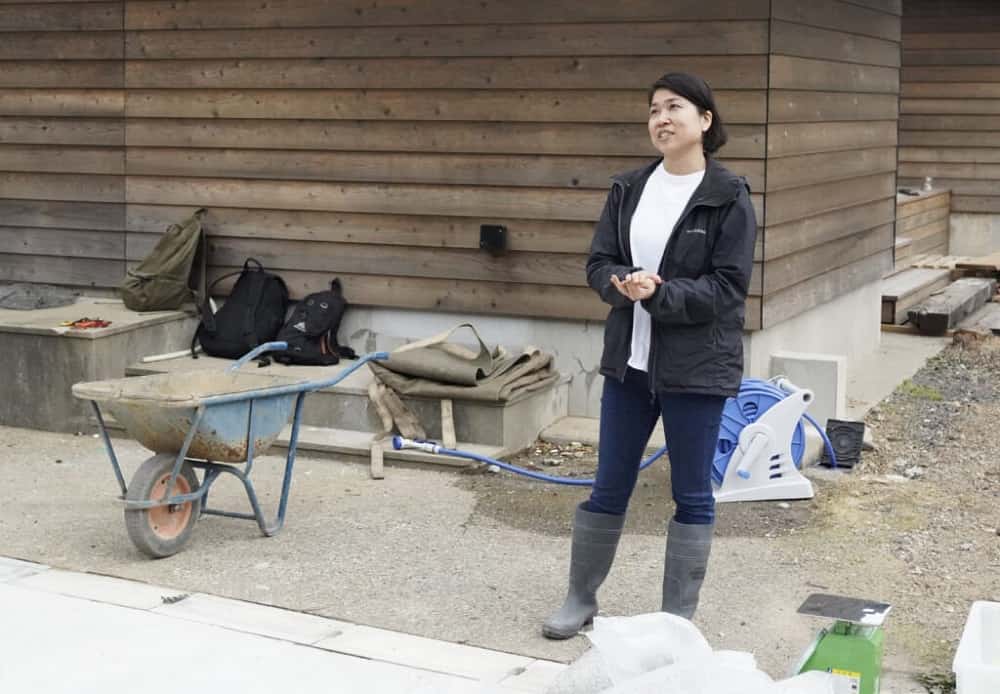 Day 2
On the second day, we will interview Kakuda about the "garbage problem," one of the major issues facing the region. Ago Bay has long been active in the pearl cultivation industry, but as a negative legacy of the past, many fishing nets and other fishing equipment used for cultivation have been illegally dumped or washed ashore on neighboring islands and land. The island visited by the author on a previous inspection and monitoring tour was filled with aquaculture plastic waste and domestic garbage. The amount of garbage could not be collected by local residents and fishermen living in an aging community with a declining population.
Kakuda Pearl is currently designing an experience to allow visitors to experience the collection and sorting of such marine debris within the framework of tourism as one of its community and environmental restoration activities. In addition, in order to recycle the collected marine debris using upcycling methods, rather than disposing of it, the project is collaborating with Teijin Limited, a major Japanese chemical manufacturer, and Sasaki Shoko, a manufacturer of fishing nets and other marine aquaculture materials. The tour will be joined by representatives from each of these companies.
After hearing about the current status of the waste problem, Kato will give a lecture on the "circular economy." Afterwards, participants will experience the sorting of discarded fishing nets, which will be upcycled in the future, and while making use of the previous day's experience of satoumi circulation, they will think about what they can do to promote the coexistence of people and nature and a better environment for everyone.
This tour is recommended for
Those who are interested in the concept of sustainability and regeneration
Those interested in circular economy and upcycling
Those interested in regenerative tourism
Those interested in satoyama and satoumi
Those interested in regional revitalization
Those who want to explore the coexistence between people and nature and promote a better sense of circularity
Anyone who is interested in other aspects of the tour is welcome to join.
What you can experience in this tour
Be involved in local environmental, social and economic revitalization activities
Learn about the mechanism of the satoumi cycle, the appeal of regenerative activities in which people are considered part of nature and evolve together within the overall system, and the appeal of tourism and experiences that have the potential to lead to solutions to environmental, social, and economic problems all at once.
Learn and think about the mechanism of a circular economy
Meet people who share similar interests and awareness of issues
Meet and hear directly from people who are passionately engaged in activities to rebuild the satoumi
Through the whole experience, you will have an opportunity to seek your own way to improve the future relationship and harmony between people and nature, and how to create a better cycle.
Be healed and empowered by nature
Enjoy delicious meals!
Tour date / October 28 – October 29, 2023
[Reference] [Oct. 28-29, now recruiting participants] "Circular Tourism" from the satoumi of Ago Bay, Ise-Shima, to think about the symbiosis between people and nature and a better circulation | IDEAS FOR GOOD (in Japanese)
[Related Site] Japan Pearl Exporters Association (in Japanese)
[Related Site] Kakuda Pearl Co.
[Related Site] COVA KAKUDA (in Japanese)
[Related Site] Ministry of the Environment / Satoumi Net
[Related Site] Circular Economy Hub (in Japanese)
[Related Site] Livhub (in Japanese)
[Related Site] IDEAS FOR GOOD (in Japanese)