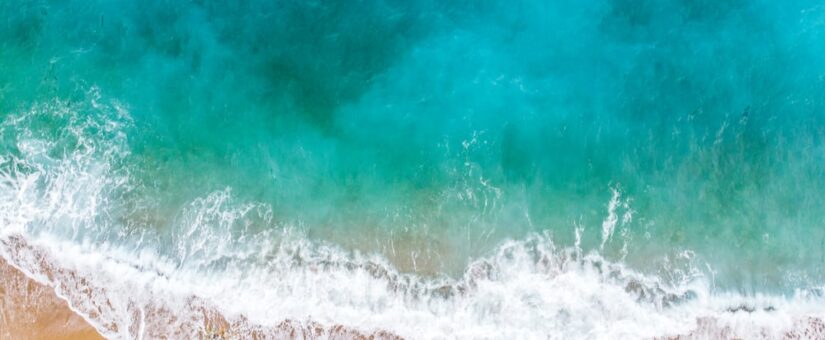 Circular Economy Hub: Launch of "Circular Economy Hub" Paid Membership Service, a Circular Economy Specialized Platform for Accelerating Business for a Carbon-Free Society
On 2021年4月20日
Circular Economy Hub
Harch launched a new service on April 1st, 2021 on its "Circular Economy Hub," a specialized platform focused on circular economies. The aim of the service is to promote business models where the economy and the circulation of natural resources can coexist as well as match organizations involved in related work.
*Circular Economy refers to the design of products and services that do not emit waste or pollution. It is a new kind of economic system where our natural system is reused, through continuing to use raw materials and products for as long as possible.
Background of the Service Launch
Since Prime Minister Suga's October 2020 declaration to decarbonize, the circular economy has received more attention than ever before in Japan. On one hand, understanding about what a circular economy is, as well as why we should promote it, are both gradually becoming more pervasive here in Japan. On the other hand, information about strategies and policies on how to best shift to a circular economy, as well as how to solve any problems that happen during that shift, is currently still limited compared to other countries.
Therefore, Circular Economy Hub has started offering a new paid membership for utilizing Japanese and overseas networks. This is in order for members to formulate circular economy strategies, gather information for solving problems related to the business side of things and realize essential partnerships for implementing these strategies.
The two kinds of memberships available are reading members (2,980 yen a month with tax) and community members (9,800 yen a month with tax). Reading members can access paid articles, including ones about recent circular economy trends in Japan and overseas and insightful articles, as well as a database for cases in Japan and overseas and study contents. Community members can access the same features as reading members. They can also use community functions where they can communicate with other members. In addition, they can advertise for business partners within the community and post notices about their own company's projects. Taking advantage of the merits of a closed community, members can participate in the latest and most important discussions which are not normally open to the public. They can also actively search for joint partners. Circular Economy Hub also hosts a paid webinar called "Circular X," and participation fees for this webinar are waived for both reading and community members.
Circular Economy Hub is promoting the cooperation of various organizations in Japan and overseas. We are also recruiting collaborating partners from local governments and organizations that want to promote circular economies. For those who are interested in using our service, please feel free to send an inquiry anytime.
Four features of Circular Economy Hub's membership system
1. Access to paid articles
Paid members can subscribe to news introducing recent Japanese and overseas circular economy regulations and policies and related efforts from companies. They can also subscribe to insight and opinion articles from Circular Economy Hub's editors who reside in various countries including Amsterdam and watch the leading circular economy trends in the field,
Types of Articles on Circular Economy Hub
News: Up to date information regarding circular economies in Japan and overseas
Interviews: Articles featuring interviews with business people relevant to circular economies in Japan and overseas
Reports: Observations and experience reports about circular economy projects in Japan and overseas
Insights: Thorough explanations from specialist editors regarding circular economy news, reports and other issues
Opinions: Opinions from our editorial team regarding trends in circular economies
Study contents: These study contents are aimed at people who want to learn about circular economies, starting from the very basics
Database: Publication of databases of circular economy policy data broken down by country, as well as companies making efforts regarding circular economies.
2. Launch of Database of Circular Economy Cases in Japan and Overseas, and Study Contents
Members can access a database of circular economy cases in Japan and overseas as well as study contents. The database publishes information about circular economy trends by country and efforts from leading companies and other organizations. The study contents are aimed at people who want to learn about circular economies.
3. Free Participation in "Circular X" Event Held by Circular Economy Hub
Paid members get free participation in "Circular X," an event that invites circular economy practitioners as guests and digs deep into different industries and themes. The normal participation fee is 3,000 yen. In the seven study programs held in 2020, a total of over 500 people participated. Twelve sessions are planned to be held this year from April 2021.
*Program details: https://cehub.jp/news/circularx/
4. Invitation to Member Community (Community Members Only)
Only community members are invited to our member community. This community has the aim of forming important partnerships in order to promote circular economies, and to facilitate communication between members. The community utilizes the communications tool "Slack." Members can exchange information about circular economy cases in Japan and overseas and share problems that may occur upon implementing a circular economy. In addition, members can cultivate partnerships and make announcements about their company's products or events. They can also be active in the starting up of cooperative projects.
Examples of Member Community Channels (Rooms)
Posting of Information not yet published on Circular Economy Hub
Cultivating partnerships and announcing company products and events, starting up cooperative projects (Members can start private channels)
Channels where members can match with overseas companies
Channels where members can access archives of events and have discussions in which they can study these events further
Other kinds of information from our editorial team
Holding meetups
Fees (with tax)
Reading members: 2,980 yen a month (with tax)
Community members: 9,800 yen a month (with tax)
*Limited to applications made until May 31st, community memberships until June 30th are available for a limited time at 2,980 yen. In early June, we will ask you if you want to continue with your community membership at the original price.
Membership Application Page
https://cehub.jp/membership-join/
Member Category List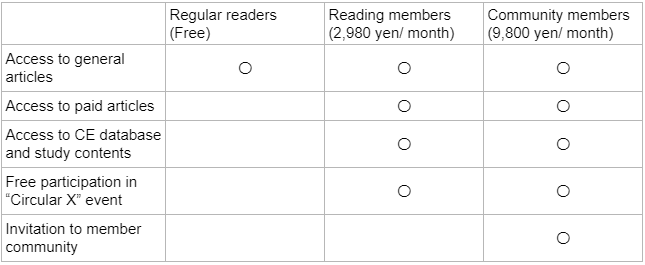 Site Overview
Name: Circular Economy Hub
URL: https://cehub.jp/
Opened: March 20th, 2020
Service Overview: Posts about the latest trends in circular economies in Japan and overseas, study programs, talks directed at implementations of circular economies by companies, research consulting services