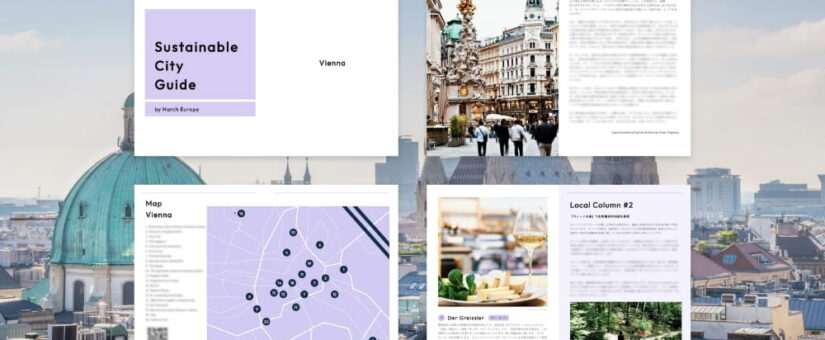 Harch Europe's "Sustainable City Guidebook (Vienna, Austria edition)" is now on sale!
On 2023年9月12日
Austria, Circular Economy, Europe, Harch Europe, social good, sustainability, sustainable, Sustainable City Guidebook, sustainable spots, travel Europe, Vienna
Harch Europe, a business organization run by Harch members residing in Europe, has started selling the Sustainable City Guidebook, which introduces attractive sustainable spots in Vienna.
As it has become easier to travel abroad in recent years, many people may be considering business trips or trips to Europe. If you are visiting there, you may want to see firsthand the much-talked-about sustainable facilities.
Hach Europe has been providing information on sustainable activities in various European countries and cities, such as "Europe News" on IDEAS FOR GOOD. In April 2023, Hach Europe released three guidebooks in which members living in Amsterdam, London, and Paris carefully selected and introduced local sustainable spots. Due to the popularity of these guidebooks, we are pleased to announce the release of a new edition for Vienna, Austria!
The Vienna guidebook introduces a variety of popular restaurants, cafes, hotels, grocery stores, and museums. In addition to introducing sustainable spots, the guidebook also includes columns on local life, recommended transportation, and suburban cities. The magazine is not only intended to be a travel companion for those who are actually going on a trip to the region, but also for those who do not plan to visit the region to fully experience the atmosphere and attractions of the region.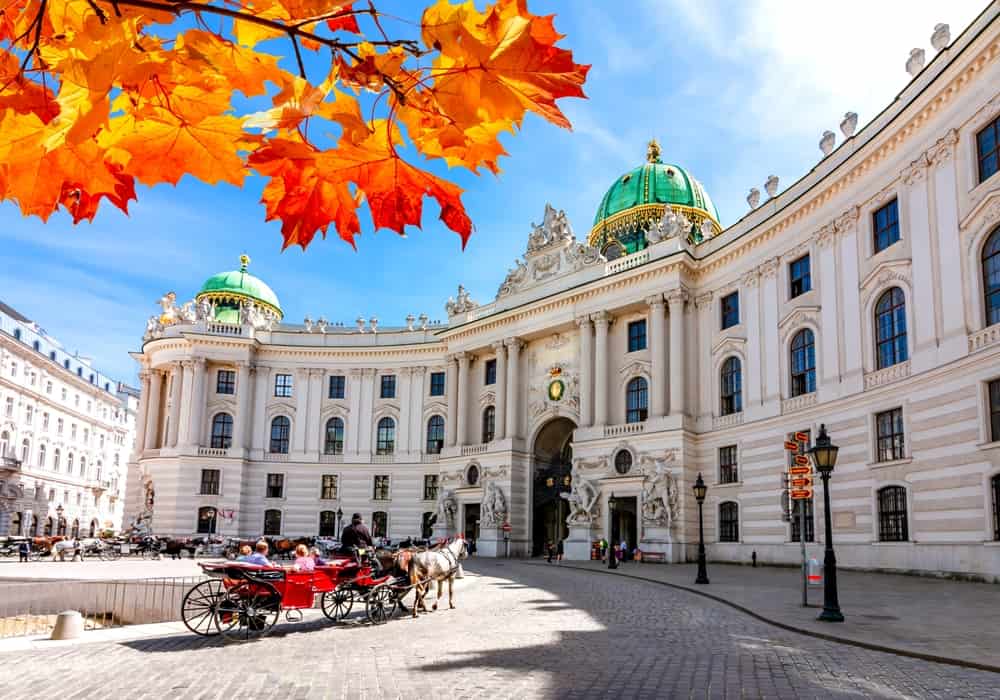 Composition of the Guidebook
Contents (for each city)
Our pick of 20 sustainable spots
2 columns on local city tours
A colunm on recommendations for sustainable transportation
A column on suburban cities recommended for a day trip
Google Maps with sustainable spots in the city (available for download)
Examples of spots featured (Vienna edition)
An art museum certified by the Austrian government as an eco-label
A sustainable hotel representing the 17 SDGs
A restaurant serving high-grade vegan cuisine
An urban farm that is also a "showroom" for vegetables
An artistic waste incineration plant that has supported Vienna's recycling system
Guidebook Sample Pages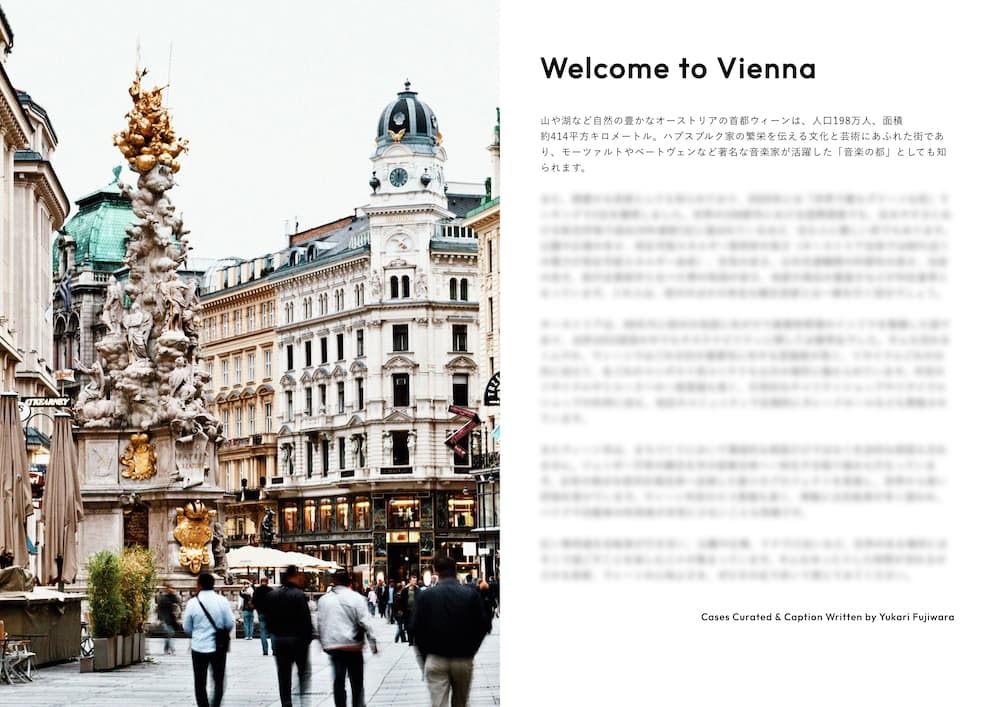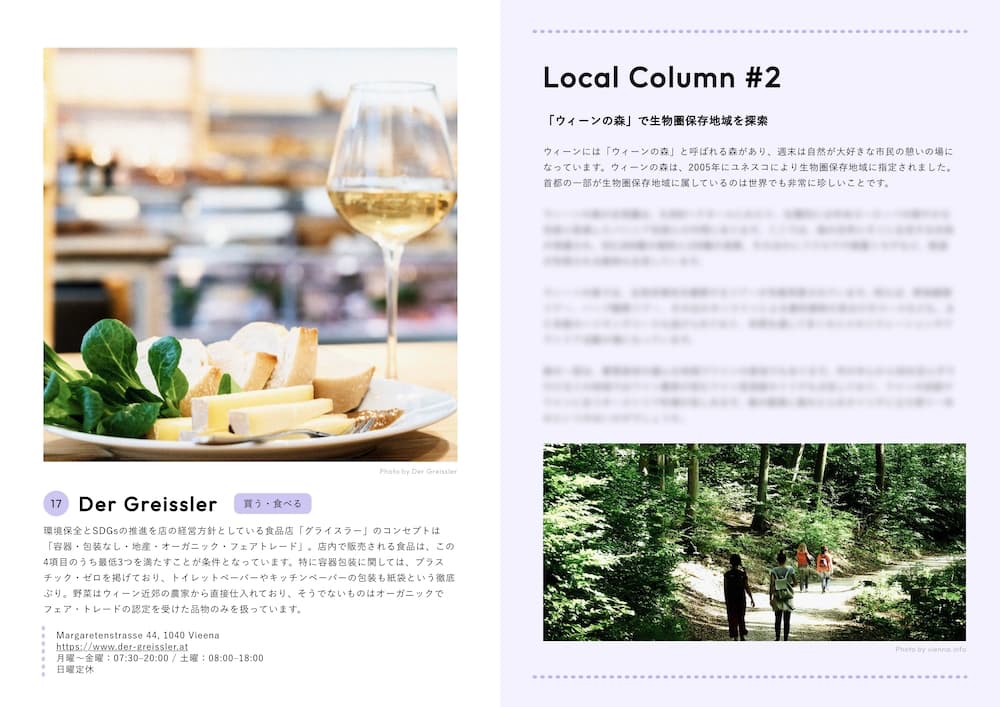 Guidebook Features
1. The latest sustainable spots carefully selected by the IDEAS FOR GOOD editorial staff who live in the area
The guidebook features carefully selected sustainable spots that were actually experienced by local members of the IDEAS FOR GOOD and Circular Economy Hub editorial staff, who routinely gather information on sustainability from around the world. This section summarizes the unique points of facilities and organizations as seen from the editorial team's point of view.
2. 20 newest spots in each city
A total of 20 spots are featured from each city. A wide range of hotels, restaurants, department stores, and souvenir shops are listed. You can also download Google Maps data with all the locations registered, so you can check the map and stop by nearby spots even when you have a little free time.
3. 2 columns for getting to know each city
Two columns written from locals' perspective, including hints for sustainable living found in actual local life and discussions about sustainability that are hot topics in the area. Once you understand the locals' perspective, you will be able to enjoy the city differently.
4. Recommended means of transportation and suburban cities that can be visited in a day trip
Different cities have different means of transportation. By using the vehicles that local people use on a daily basis, you will be able to tour the city from a perspective closer to that of the people living there. The guidebook also introduces suburban cities that can be visited in a day trip. The guidebook is full of information that cannot be found in other guidebooks.
Guidebook Overview
Author: Harch Europe (IDEAS FOR GOOD and Circular Economy Hub editorial staff)
Price: 2,200 yen per city (tax included)
Publication date:

April 3, 2023 (Amsterdam, London, and Paris editions)
August 21, 2023 (Vienna edition)

Language: Japanese
Format: Digital (PDF format)
Number of pages: A4 21 pages / each city
Where to purchase: https://bdl.ideasforgood.jp/product/sustainable-city-guide/ (in Japanese)
From the members of Hach Europe
Austria has actually been promoting sustainability ahead of any other European country, by being one of the first to develop waste management infrastructure and by introducing composting containers for food waste in addition to sorting recyclable waste in the city. Known for its music and art, Austria has many tourist attractions, but how about taking a tour of the city from a new perspective, focusing on the country's sustainability? You may even catch a glimpse of the culture that has taken root in the local community.
The guidebooks for Amsterdam, London, and Paris are also still available. If you are planning to visit Europe and would like to know more about the region, please take this opportunity to pick up a copy of the guidebook.
[Reference] "Vienna, Austria edition added to the "Sustainable City Guidebook" supervised by IDEAS FOR GOOD editorial team! | IDEAS FOR GOOD (in Japanese)
[Related Article] Now it's time to go to Europe! How will you get around? The editorial team supervised "Sustainable Cities Guidebook" is now on sale. | IDEAS FOR GOOD (in Japanese)