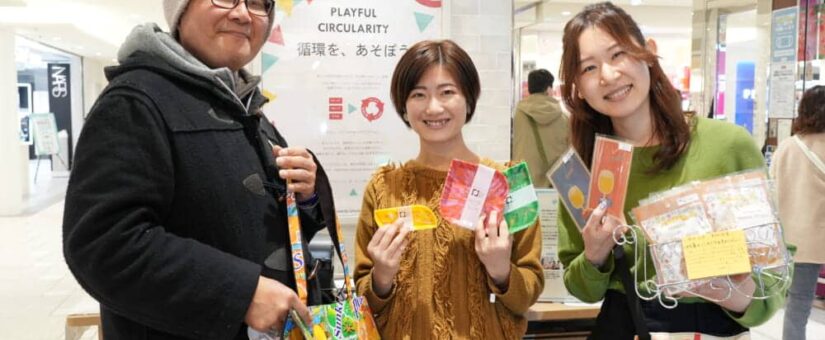 Circular Yokohama held "YOKOHAMA CIRCULAR DESIGN MUSEUM" at Lumine Yokohama
On 2023年2月13日
Circular Yokohama, event report, LOCAL GOOD DAY, LOCAL GOOD WORKSHOP, LOCAL GOOD YOKOHAMA, Lumine Yokohama, sustainability, sustainable, Yokohama, YOKOHAMA CIRCULAR DESIGN MUSEUM
From January 10 to 15, "Circular Yokohama," Harch's online platform that aims to promote the circular economy in Yokohama, and "LOCAL GOOD YOKOHAMA" collaborated to hold "LOCAL GOOD DAY! Good communities circulate." The event was held at the event space on the second basement floor of Lumine Yokohama.
Circular Yokohama held the "YOKOHAMA CIRCULAR DESIGN MUSEUM," a mobile museum where visitors can see, touch, and purchase products from January 10 to 13. During the opening period, many visitors, including people from Yokohama who have been a part of our business, came to the museum, providing a valuable opportunity for new connections and communication to be formed in a real setting.
On January 14 and 15, LOCAL GOOD YOKOHAMA also hosted a "Sustainable Workshop to Update Yourself: LOCAL GOOD WORKSHOP," which was attended by many people from adults to children.
This article reports on the six-day event.
* Originally published on Circular Yokohama (in Japanese).
Yokohama's circular project seen by many people
The first YOKOHAMA CIRCULAR DESIGN MUSEUM, a mobile museum planned by Circular Yokohama, was held in front of Tennocho Station on the Sotetsu Line on October 9, 2022, at the "Hoshiten Fair 2022 PLAY!! HOSHITEN!!"

Since the exhibition was held at the terminal station in Yokohama, a large number of visitors, including LUMINE customers, came to the exhibition.
Products sold at the event included bags and accessories from "Coco&K.," which upcycles juice packs from the Philippines. We also sold plates and key chains by "buøy," which upcycles marine plastic, and postcards made from "craft beer paper," which is kneaded from malt lees after beer production. Other products sold included "recycled bags" made by students of Kanazawa School for the Disabled, honey products from Hachi-iku, which provides environmental education through beekeeping, and "Kanazawa Yami" and "Kurofune Soap" designed and developed by students of Segasaki Elementary School.
During the event, members of Circular Yokohama, IDEAS FOR GOOD, and LOCAL GOOD YOKOHAMA stood in the store and carefully introduced the stories of their products and their impact on the environment and society. While many customers became interested in the products through the conversation, we were also impressed by the number of people who stopped by the store because they were attracted by the design of the products themselves.
For some of the sales fixtures, we borrowed a stand made of a triangular pillar and a board, which was created by the "Hama no Yatai Project" by students of Yokohama National University, and by experimenting with different ways of using it at different times and on different days, we created a unique space design that would never become boring.
As in the previous event, each member brought items that they could use from their own homes for the fixtures and accessories necessary for displaying the products, and as much as possible, we made it a rule not to purchase new items. For example, the stand for displaying products was made from reused milk cartons, and paper bags brought from home were used as handbags for customers.
In addition, posters for the event were printed on FSC-certified paper by Okawa Printing, an environmental printing company based in Yokohama.
Bringing smiles to passersby with plants to be disposed
On January 11 and 12, "5%Garden," a brand that rethinks the living environment in which people view gardens and yards through the "landscaping industry" x "SDGs," also participated in the event, selling flower bouquets made from bundles of rooted pruning branches that would otherwise be thrown out during garden maintenance.
Beautiful flowers and sophisticated space creation techniques made the space all the more gorgeous, attracting the attention of passersby.
Sustainable workshop "LOCAL GOOD WORKSHOP" to update yourself
On January 14 and 15, LOCAL GOOD YOKOHAMA hosted a "Sustainable Workshop to Update Yourself: LOCAL GOOD WORKSHOP," which attracted a large number of visitors each day.
HAPPY MONDAY, which aims to increase the number of children who have hopes for adulthood and create a system that makes adults "excited" as well, held a workshop "What will your dream be in 2023? Let's make a snow globe to make your dreams come true by upcycling!" The event was a great success, with participants of all ages, including couples and parents and children.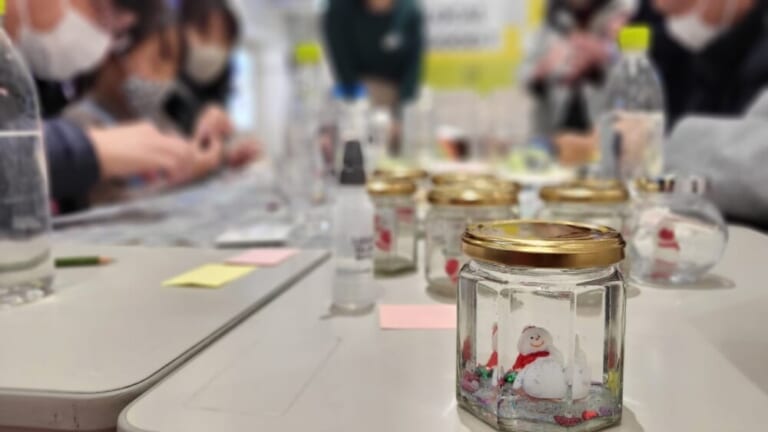 The "Shitamachi Edit Room OKASHI," a platform for placemaking and archiving centered on the Kannai and Kangai (former Yoshida Shinden) areas of downtown Yokohama, held a mapping workshop in which participants imagined the Yokohama Station area in 100 years and freely drew their own images of the area. Participants put pins on a map tracing Yokohama Station and the surrounding area, and wrote down their imaginations and ideas for the future of Yokohama, resulting in a wonderful map full of unique ideas.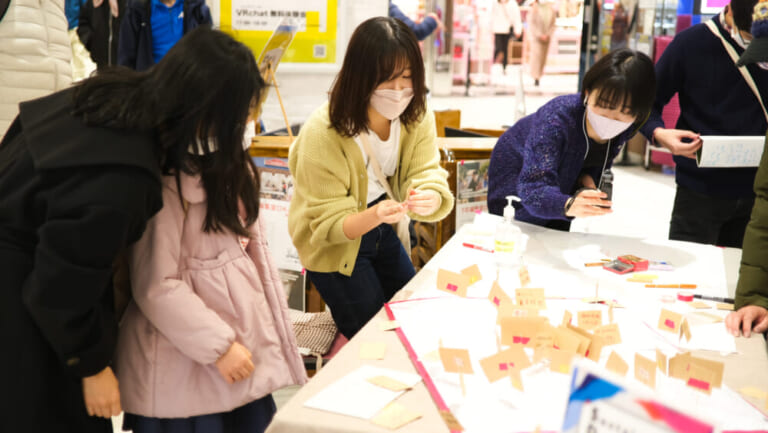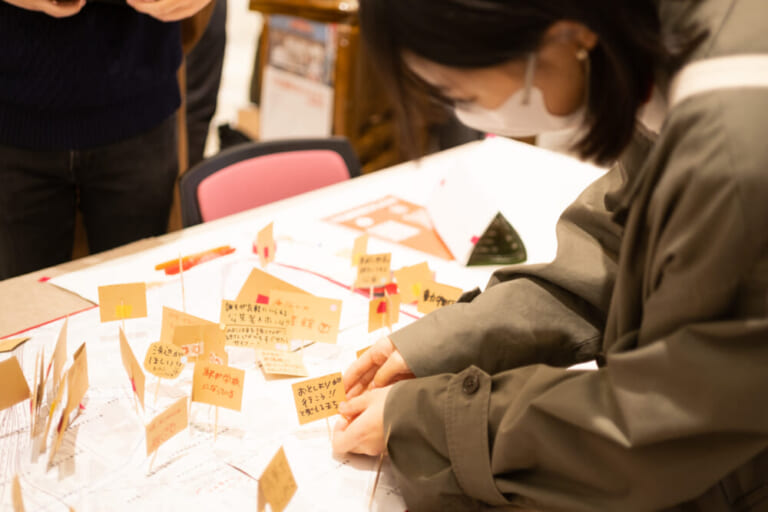 LOCAL GOOD YOKOHAMA offered "A welcoming exhibition for everyone – LOCAL GOOD VR YOKOHAMA," featuring a unique SDGs x Metaverse experience with metaverse creator Nemo Idoladeus, who is involved in creative activities and event planning centered on VRChat, a VRSNS. On the day of the exhibition, contents of works (photos, audio, videos, etc.) created in the above workshop were displayed in the Metaverse, and many people visited and experienced VR here as well.
Editorial Postscript
All the members are very happy that we were able to provide many people with a chance to encounter Yokohama's circulation in a real setting, and that new encounters were born among the people who gathered there. Once again, we would like to thank Lumine Yokohama and LOCAL GOOD YOKOHAMA for providing us with such a wonderful opportunity.
Circular Yokohama will continue to work together with local residents to make Yokohama more exciting through the circular economy. If you are interested in our activities, please feel free to contact us anytime!
YOKOHAMA CIRCULAR DESIGN MUSEUM Outline
Period: Tuesday, January 10, 2023 – Friday, January 13, 2023
Place: LUMINE Yokohama, B2F Event Space (directly connected to Yokohama Station East Exit)
Organizers: Circular Yokohama (our company), LOCAL GOOD YOKOHAMA (NPO Yokohama Community Design Lab)
Cooperation: 5%Garden, Yokohama SDGs Culture Festival Executive Committee
[Reference] "`YOKOHAMA CIRCULAR DESIGN MUSEUM' was held at Lumine Yokohama [Event Report] | Circular Yokohama" (in Japanese)
[Related Site] Circular Yokohama